Close to the end of her life, Saint Margaret Mary did an unusual thing.  Ever striving to hide herself from the attention of the world, she, nonetheless, turned her gaze toward the high and mighty of the land to deliver a message to the King of France.  This divine communication had to do with the consecration of France to the Sacred Heart of Jesus.  Writing to one of her superiors she explains what it entailed:
He (the Sacred Heart) desires, it seems to me, to enter with pomp and magnificence into the palaces of kings and princes, therein to be honored as much as He has been despised, humiliated, and outraged in His Passion… (and here are the words that I heard on this point):  

Make known to the eldest son of my heart that as his temporal birth was obtained through devotion to the merits of my holy childhood, in the same manner he will obtain his birth of grace and eternal glory by the consecration that he will make of himself to my adorable heart, which wishes to triumph over those of the great ones of the world.  It wishes to reign in his palace, to be painted on his standards and engraved on his arms, in order to render him victorious over all his enemies.
It was unfortunate that this consecration to the Sacred Heart of Jesus by the supreme ruler of her country remained unfulfilled in Margaret Mary's lifetime.  The king, Louis XIV, though somewhat disposed to religious consecrations, did not respond as was hoped.  Neither did his immediate successor, Louis XV.  Only under the extraordinary circumstances brought about by the French Revolution did a private consecration to the Sacred Heart take place, and this, when the king, Louis XVI, was already in the custody of revolutionary forces.  Some have contested that such a consecration never did take place, but it is incontestably true that King Louis XVI did compose an act of consecration to the Sacred Heart (for it was discovered more than eighty years after his death, hidden in the walls of his apartments in the Tuileries palace).
History is fascinating and anyone who is interested in the French Revolution can find many sources by which to delve more deeply into the many dimensions of this historical event.  One current explanation of how the consecration took place gives us this bit of information:
In the spring of 1791, after signing the Civil Constitution of the Clergy a few months earlier, King Louis XVI fell ill at the Tuileries, where the royal family were living under house arrest.  His illness was undoubtedly the result of the stress of the upheavals which he had tried to prevent, as well as the fact that his conscience was troubling him about signing the Catholic Church in France over to the revolutionary government, severing the ties with Rome.  Louis had signed it under duress but deeply regretted this decision immediately.
We are now able to read the king's opening words of consecration set as they are in a state of high anxiety:
"You see, O my God! all the wounds which tear my heart, and the depth of the abyss into which I have fallen.  Evils without number surround me on all sides.  My personal misfortunes and those of my family, which are dreadful, overwhelm my heart, as well as those which cover the face of the kingdom…"
Louis goes on to implore the mercy and succor of God, reminding him of the divine help given to his kingly ancestors and promising, should he attain his freedom, to institute a great revival of devotions honoring the Sacred Heart.
But it was not to be.  On Monday, January 21, 1793 King Louis XVI was guillotined at the Place de la Revolution, having been beforehand, stripped of all his honors and titles.  His wife Marie Antoinette died in similar fashion a few months later and their heir, Louis XVII never left captivity alive.  It was the end of the royal dynasty of France as it was known for centuries.
What are we to make of the King's heartfelt plea and words of consecration which seemed to be left totally unanswered?  It was certainly reminiscent of Our Lord's abandonment on the wood of the cross and the ultimate dispersal of his disciples in the days following his crucifixion.  One can only look at the event, so disastrous in the estimation of the world's judgement, and acknowledge the words which Jesus himself spoke: "My kingdom is not of this world."  This perhaps is the illumination which comes to us from any consecration which we might make, for to utter the sentiments of a consecration is to step into a new spiritualized dimension where faith takes center stage.  A consecration is not a bargain with the Almighty, it is not a wedge which we can use to keep open 'negotiations' that will ensure the hope of future blessings and personal enrichments.   No, the merit of making any act of consecration lies in its capacity to shift our inner human impulses completely over into the hands of God, allowing God to do what he wills, in his own way and in his own time.  To think, then, that consecrations are useless formulas, outdated, and with no relevancy for any historical age, is to misunderstand how God honors his creation, for He takes what we say and do seriously.
When we are immersed in superficiality day after day allowing ourselves to be like 'driftwood' carried along aimlessly by the world's trivialities we can easily become entrapped in a bleakness that has little depth and meaning.  (I say this after taking several trips in the past year on public transportation watching people absorbed in their little hand pc's, some spending their entire trip playing at video games or furiously scrolling through their apps).  Supposedly these little diversions are the pain relievers for the spirit of purposelessness that grips so much of our society.
God, however, is ever calling us back to his heart.  Perhaps some people will feel that God is trying to get our attention in drastic ways like the recent violent displays of nature.  This can be very disturbing to those who want to find someone to blame for all the ills in life and discover that their wrath can easily be vented on God, who allows innocent people to suffer.  But, I believe, God does speak to us through nature (through its beauty and through its destructiveness), though only so we can be taught that there is a far greater power at work in the universe than we can ever fathom or seek to master.  The great spiritual masters realized that God's providence is working itself out in the world in ways that cannot possibly be explained by scientific means.   Things happen that remain a mystery beyond our abilities to analyze.
I am thinking here of the recent occurrences in Sokolka, Poland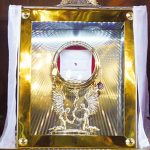 where a consecrated host fell to the ground during the distribution of communion and later turned into a particle of cardiac flesh from a dying man.  In our enlightenment culture, our skeptical spirits find such events unthinkably absurd.  It is only on the level of faith that we can take in the ramifications of what is happening and that is true of any act of religious consecration we may choose to exercise…for God desires us to be consecrated to Himself… to God alone.
Despite the fact that the King of France did not live to see the earthly fruits of his consecration to the Sacred Heart, his offering did not go unrequited.  Seeds were sown in the good soil of French hearts that would ultimately result in the building of a grand edifice dedicated to the Sacred Heart; a memorial whose purpose was to draw down upon France, especially the city of Paris, the merciful protection of God.  Here is how Rev. Emile Bougaud, a prolific spiritual researcher, described it:
 "'I will reign in spite of all who oppose Me,' said Our Lord Himself to his handmaid (Margaret Mary). It is a far cry indeed from the first humble altar in the novitiate of Paray-le-Monial, hardly more than a chair, with its small picture of the Sacred Heart and its few flowers and lights, to the magnificent Basilica of Montmartre, on which the wealth of human genius has been expended, and its Perpetual Adoration, with its daily and nightly crowd of earnest worshippers."
[p. 361 The Life of Saint Margaret Mary Alacoque, Tan Publishers, reprinted 1990 from 1920 copyright]
            Our ongoing devotion to the Sacred Heart has undergone many fluctuations in the course of history.  Some would predict that its relevancy is no longer viable.  They look at the closed churches, the lessening of church attendance, the priest shortages, the increased levels of polarization in understanding church doctrines, and do not know what to do. Surely these things are signs that we are undergoing a time of trial, but we must have confidence and courage to trust that when the Lord promises to be with his church until the end of days, then that is what will be.  Today is the feast of a great daughter and doctor of the universal church, Saint Therese of Lisieux, who kept on the path of commitment, believing that her small acts of love could touch the heart of God even amidst the most wayward of her surroundings.  This should give us hope that when we consciously pray our prayers of consecration, the ear of God is listening.  That grace-filled heart of divine love is ready to pump out what we truly need despite the worst of our predicaments.  For if we are willing to embrace the mysterious paths He leads us on while uniting our hearts to His, we will pass through life's perils in peace knowing that in the end his divine wisdom will make all things right.
†This Sacred Heart talk was given in the Gathering Room of the Sisters of the Visitation in Tyringham, MA on October 1st, 2017.  The next talk will be held by the Sisters on November 5th, 2017 at 4:00pm